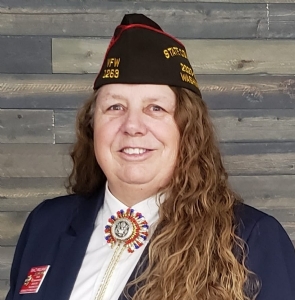 The month of November brings lots of deadlines for the VFW and it's Auxiliary. We have all our Voice of Democracy/Patriot's Pen/Youth Essays, as well as Teacher of the Year entries to judge. We have toy drives going on and Thanksgiving to prepare for, but as far as I'm concerned, the most important part of November is Veteran's Day and what that means. It may be a hectic time for Posts and Districts, but remember WHY it's so hectic: because you, or your family member is/was a Veteran. If it weren't for your service and sacrifice, you wouldn't even be a part of the VFW family. To me, EVERY day is Veteran's Day, and thanking a Veteran for their service, and welcoming them home (even if they've been physically back in the US for years) is something we all need to remember to do.
This winter has started off with yet more shutdowns by the Governor's office, and now, more than ever, I need Commanders and Presidents to call their membership to check on them. The gloomy, gray skies of the Pacific Northwest is not conducive of "cheery" times, and depression can easily take over one's attitude. It is these types of trying times that show really who we are as an organization. Do we really "have your six" or is that just a catchphrase that is easy to say, and makes us feel better when we say it? If everyone just calls two members to just check on them, even if they don't live in the state, we'll have everyone accounted for, and better yet, we'll be accomplishing the VFW mission without even having to leave our homes. Just TWO….. go ahead and call TWO Post or Auxiliary members that you normally don't call. You may just make their day!
Lastly, I want to thank every one of you that has stepped up to help your Post survive. Too many Posts rely on "in person" activities to pay the bills, like fundraiser dinners and canteens. We need to still pay the bills, but we need to use inventive ways to accomplish that. If you normally patronize your Post canteen and drop $25 a week on pull tabs and beverages, please consider writing a check for that $100 and send it to them. If you normally help with fundraiser dinners, consider doing a "drive thru" dinner fundraiser! The community wants to help; give them that opportunity by doing community "to-go" dinners and take donations.
We WILL get through this. We WILL survive as an organization. It just takes someone to step up and help. Be that "someone."
Thank you all for your service and sacrifice to this great Nation of ours. Thank you, family members, for all you've sacrificed so we could serve. I hope you all have a great Veteran's MONTH, and welcome home.
(Updated: 18 November, 2020)