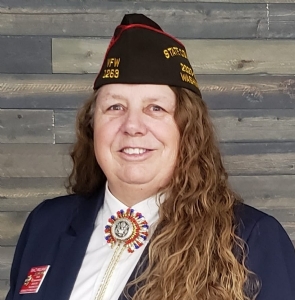 Comrades, Sisters and Brothers,
This past year did not end the way any of us wanted it to end; nor did the beginning start the way any of us wanted it to start! Your new President, Marjorie Stetson, and I had a great party lined up to include a live band, great food, and a great time to be had by all, until this COVID decided everything doesn't always go as planned. On June 13th, I was installed, along with your new Sr. Vice Commander, Chad Hassebroek, by National Sr Vice Commander-in-Chief Hal Roesch II. Although not many were able to attend, there were many on Zoom to watch. It was no less an honor to become your Commander, regardless of the circumstances. Instead of my Dad (Korea War Vet and my eligibility for my Auxiliary Lifetime membership) putting my Commander's cap on, I had the honor of our President, Marjorie Stetson, be his stand in. THANKS, Marjorie!!
I have been your Commander for not very long, but great things are already getting accomplished at Department. A new Department Service Officer has taken the reigns and put a turbo engine on that horse! He has made personnel moves, decisions, and has kept me and the Service Committee informed the whole way! Serving our Veterans is still going on, with a staff that will put the VFW's name back up as a positive experience for all! I am very proud of what they are accomplishing as a team, during this trying time.
General Order 1 was already sent and regular GO's will be put out to the membership, SOI will be announced, and Sunday the 28th we will be voting/installing the rest of the State line officers, appointees, and National Rep. This also will be on Zoom, as there are no secrets in the VFW. Zoom info will be on our Facebook page. My team will be transparent, informative, and accessible to ALL!
Remember, Stay Focused on our mission and you can't be wrong!