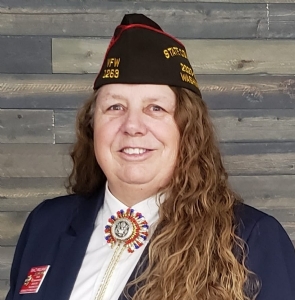 Comrades, Sisters and Brothers-
This morning (July 31, 2020) myself and a few members of my staff attended a live Zoom meeting with Commander-in-Chief Roesch to address some of the statements made during his speech on July 24th, 2020 after being installed as the Veterans of Foreign Wars' 112th National Commander-in-Chief. During Chief Roesch's acceptance speech he made it clear that our organization is "at a major turning point in our nation's history". The speech continued to speak of inclusion of all eligible veterans no matter their gender, race, age, sexual orientation, or religion. While there are some that do not agree with the wording used by our Commander-in-Chief specifically that of "Black Lives Do Matter"; I am here to tell you that, as your State Commander, my staff and I are committed to standing with Chief Roesch, and we will not tolerate intolerance to others based on gender, race, age, sexual orientation, or religion. The goal of our organization is to be the most INCLUSIVE organization for our qualified veterans no matter their personal differences and or preferences.
During the meeting Chief Roesch brought two things to light, that I think are important that I pass on:
1. The statement of "Black Lives DO Matter", is not an endorsement nor was it meant to be an endorsement of any organization or movement. Chief Roesch made it clear that the word "DO" makes a huge difference and was intended to ensure that the members of the VFW understand that regardless of gender, race, age, sexual orientation, or religion you "DO" matter as a veteran and member of this organization.
2. The statement of "Our doors are open to ALL eligible veterans" means exactly what is stated. If you are eligible for membership within the VFW then you are welcome no matter your gender, race, age, sexual orientation, or religion. This was not a statement that all veterans can join or an indication that we are changing our Congressional Charter to include veterans who are not currently qualified for the VFW.
I am including, below, the link to the video of the speech along with the link to the entire transcript of the speech. I encourage each of you to view or read it in its entirety, so you are better able to understand the nature of the message as a whole and move past the focus on one or two small parts of it.
If you have any questions, feedback or concerns I invite you to contact me or any member of my staff. We are one team, team VFW, and through these times the Department staff are here to assist you.