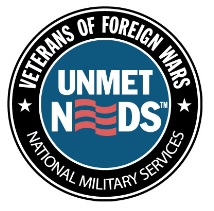 Unmet Needs Program: This program provides financial assistance to active duty, guard, and reserve personnel experiencing financial difficulties due to their deployment out of the Continental United States.
Unmet Needs Application Form
Unmet Needs Status line - 866-789-6333 - the applicant must call.

Sport Clips is a proud supporter of the VFW's "Sport Clips Help A Hero Scholarship" program. Support those who support us and visit your local Sport Clips today! Click here.

Washington Department of Veterans Affairs